Welcome to Shinmai Fukei Kiruko-san Wiki, a wiki dedicated to everything about the manga series Shinmai Fukei Kiruko-san, or Novice Policewoman Kiruko-san, that anyone can edit. Please help us by creating or editing any of our articles! We currently have 1,208 edits to 39 articles and 79 images on this wiki.
Careful: This wiki contains SPOILERS, read with caution!


Navigation

Administrators • Requests for Adminship • New Pages • Categories • Help Wiki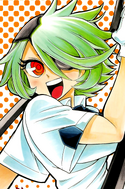 Kiruko Otonashi is one the main protagonists of Shinmai Fukei Kiruko-san and a former mercenary who became a police officer. Her weapon of choice is a set of Tonsa Blades, and she is very skilled with them. Kiruko is also skilled in hand-to-hand combat and has proven that she has enough speed to even catch up to a criminal on a scooter. Read more...
Upcoming Anime Highlights